Post-Tornado Survey, Tuscaloosa AL
The loss of life and destruction left in the wake of strong tornadoes in Tuscaloosa, Alabama on April 27th, 2011 has prompted researchers to conduct post-storm field investigations on the impacted wood frame structures.  Dr. David Prevatt and new Graduate Student David Roueche from the University of Florida will be leading a team of researchers from University of Alabama (Tuscaloosa), Texas Tech University, Iowa State University, Oregon State University and South Dakota State University,  Simpson Strong-Tie and the Applied Technology Council.  They will participate in data collection activities over the next five days, to document the extent of tornado damage, focusing on wood buildings.  They will attempt to relate the damage caused to the windspeed (where possible), to construction methods, and to building codes in force at the time of construction.  As the work unfolds, we will update this blog below, in reverse chronological order, with initial findings and photos.
August 11, 2011
Recent radio item on the involvement of Dr. Rakesh Gupta and Dr. Arijit Sinha from Oregon State University.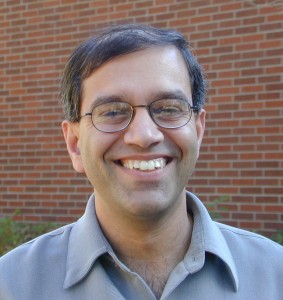 August 5, 2011
The final statistics for some important figures regarding the outbreak of tornadoes experienced this April have been released. Severe Weather Expert Dr. Greg Forbes produced an article through The Weather Channel website entitled "April 2011 - The Tornado Numbers Are In!" that details these conclusions. The report lists several facts related to the April 2011 tornadoes and also to the totals for the year thus far. It is interesting to note that, officially, 753 tornadoes occurred in April. This is over 200 more than any previous month since records were kept. These tornadoes caused 364 fatalities as well which is the most for any one month since April 1936 when 509 tornado-related deaths were the result of that busy month. This year, another record was also set when 202 tornadoes occurred on April 27th, the most for any single day in U.S. history. Overall, we have seen 1476 tornadoes through July 31st which means we are still on pace to break the previous record for the most tornadoes in one year. This year's activity has once again forced many communities to rebuild and start over. With less tornadoes occurring in the last few weeks, we can only hope this trend of inactivity continues as 2011 progresses.
August 3, 2011
The recent release of the team's findings during the Tuscaloosa tornado assessment has reignited interest in mitigating structural damage to residential structures during tornadoes. Dr. Prevatt was interviewed several times on August 2nd and the stories from these interviews as well as interviews of other members of the team continue to generate news articles. The most recent articles include an article on MSNBC entitled Tornado-proofing homes? $1 straps would help, taken from the report and interviews with Dr. Prevatt (University of Florida) and Dr. Graettinger (University of Alabama) and a summary of the report on Fox News Tuscaloosa. In just a few hours after being posted online, the MSNBC article mentioned above generated over 37,000 views.
August 2, 2011
A recent release from Newswise titled "UA Study Shows Structures on Tornado's Edge Could Benefit From Improved Engineering" explores some of the research-related findings from the post-tornado assessments in Tuscaloosa. The assessment team consisted of professionals from several universities, including the University of Alabama, University of Florida (Dr. Prevatt), Oregon State University, and South Dakota State University. A wood-frame house in the path of an EF-4 or EF-5 tornado, as of right now, would have almost no chance of withstanding the powerful winds and dangerous debris. However, this study has shown that houses on the edges of the paths of these catastrophic natural hazards could have improved resistance against the EF-1 or EF-2 scale winds that they experience with some enhanced engineering and building practices to help mitigate the damage.
August 1, 2011
The official Tuscaloosa Tornado Report from the team summarizing the findings and recommendations from the damage assessment of the April 27th tornado in Tuscaloosa, AL has been released and is available for download. A website has been created with the detailed results of the assessments, including Case Studies, Photos a Contour Map of estimated wind speed and others which can be accessed here. http://esridev.caps.ua.edu/tuscaloosa_tornado/
The Associated Press received an advanced copy of the final report and released an article summarizing the report which can be read on the AL.com News Blog.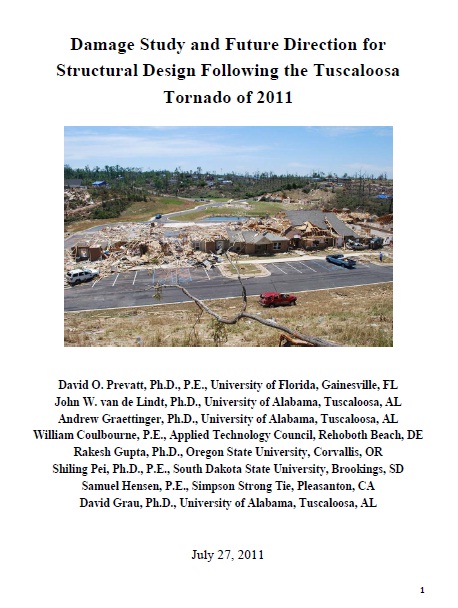 July 15, 2011
Preliminary observations from the Tuscaloosa Tornado damage assessment team are now online in an article in Structures Magazine entitle "Tuscaloosa Tornado: Preliminary Observations on Wood-Frame Buildings Damage Assessment". The article summarizes the findings and recommendations of the team in regards to light-framed wood construction under extreme wind loads.
June 3, 2011: Damage Classification Map
Following the field data collection exercises in Tuscaloosa, the damage assessment team developed the Enhanced Fujita Scale Damage Classification for over 320 buildings surveyed. In order to do this we used the 2006 report written by Texas Tech's WInd Science and Engineering Center, "A Recommendation for an Enhanced Fujita Scale" for guidance. Dr. Andrew Graettinger and his research group at the University of Alabama digitized the building locations along with their EF-classifications. Tuscaloosa Damage Assessment Map As more buildings are classified, we will continue to add data to this map, so check back frequently.
May 26, 2011
Public interest in tornadoes and the possibility of designing homes for better performance in them is continuing to increase and the spotlight has again been on the RAPID team and their findings. Recently a CBS news story entitled "Tornado Tough: How to Keep Your Home Standing" featured an interview with Dr. Prevatt.
NPR's "All Things Considered" also carried a story comparing designing for tornadoes with designing for earthquakes which featured an interview with Dr. Lindt from the University of Alabama.
As public interest continues in tornadoes it is our purpose to continue to discover methods to improve performance of houses under extreme storm events, including tornadoes, and to educate the public on our findings so that in the future the devastation and loss of life from tornadoes can be reduced.
May 20, 2011
Recently, publicity of this multi-institutional study has increased with several news outlets carrying stories about this research into the Tuscaloosa tornadoes. These have included stories in the News section at the University of Florida, the University of Alabama and the Oregon State University. The story is also featured as a cover story at the website of the National Science Foundation.
Interviews with Dr. Prevatt and Dr. Lindt concerning the study have been featured locally in Gainesville on WCJB and in Tuscaloosa on Fox 6 WBRC.
Other stories also include a feature in the Birmingham News, a feature in the Brookings Register from South Dakota, and an article on Physorg.com.
It is our hope that the coverage will help to raise awareness in the community about some fundamental shortcomings in the construction of residential structures throughout the country and lead the community to consider options which could lead to safer designs against tornadoes and other extreme storm events.
Day 5 - May 6, 2011
At our Thursday evening de-briefing meeting, we decided to use our last day to consolidate the information collected and develop our preliminary findings. Dr. van de Lindt arranged for us to use the large conference room at UA's Dept. of Civil, Construction and Environmental Dept. We estimate at least 3,500 photographs were taken and that we will have solid case studies for 150 to 200 structures. By Friday, thanks to Dr. Graettinger's tracking GPS, and software were had 30% of the buildings geo-tagged and ready for further study by the 11:00 am start of the meeting.
With the help of UA Graduate students, Zach Ryals and Blake Doherty, we reviewed images from over about 50 damaged homes. We used October 2006 Revision 2 version of the Texas Tech report on Enhanced Fujita Scale to begin rating the damage and identifying the locations on our map. Bill Coulbourne provided useful instruction and interpretation for the team on the application of the rating system. We determined there were several levels of damage in the EF0 to EF3 range. Only one damaged structure was finally rated as EF5 - (it was a new wood structure built in 2011, using metal hurricane ties that was located in a small valley). This building will be the subject of a separate report. One of these damaged buildings (shown below) was blown off its foundation by high winds, landing about 40 ft away. not this older wood structure somehow managed to maintain a large portion intact, although part of the roof was lost. There were several other examples of buildings that were moved - all located near the center of the tornado's path.
At the end of the day, FEMA representative Paul Tercell invited Dr. Prevatt and Mr. Bill Coulbourne to the initial field meeting of the three FEMA MAT teams that had arrived earlier in the day. We de-briefed them of our activities and discussed some preliminary findings. The RAPID data collection team are planning to complete their first report on this investigation by July 2011.

Today was the second day of profiling transects through the tornado path. The focus today was primarily on the tornado track through the Northeast side of Tuscaloosa. Our team also continued collecting range and true-color data of relevant affected areas. This data is expected to allow for a reliable post-assessment of the tornado FE category based on the level of damage and tree de-barking. (Click here for more details …)
This was our first full day of data collection now that the rain has stopped. We selected multiple transects on a map oriented close to perpendicularly across the path of the tornado We divided into two-person team, consisting of a photographer and note-taker to document the damage to houses. Two teams worked from the far end of each transect towards the middle of the tornado's path, selecting buildings with various levels of damage for detailed study. Care was given to note damage levels, the specific structural load paths, failure mechanisms observed and the construction materials and methods used in each structure. We completed six transects, covering approximately half of the 6-mile area of damage. Tomorrow, the team will repeat this procedure in the remaining eastern half of the damaged area. Dr. Prevatt has been participating in the FEMA call-in teleconference to coordinate our investigation with others in the field. He has also made contact with the ASCE to coordinate with their proposed objectives. (Click for more details…)
Our objective for today was to get a complete profile of the damage that occurred in representative areas damaged along the tornado's path through downtown Tuscaloosa. (Click here for more details….)
UF researcher Dr. David O. Prevatt and Graduate Student David Roueche are en route to Tuscaloosa to meet up with investigators from the University of Alabama (Tuscaloosa), Texas Tech University, Iowa State University, Oregon State University and South Dakota State University, Simpson Strong-Tie and the Applied Technology Council. (Click here for more details)